"The Math has a long history of more than one thousand years and being a multi-dimensional institution has contributed immensely to the cause of societal advancement"
JSS Hiriyara Mane (Senior Citizens' Home)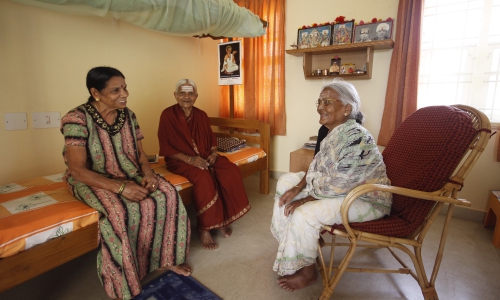 For senior citizens seeking to spend their twilight years in a peaceful and comfortable place, JSS Senior Citizen's home (JSS Hiriyara Mane) is the place to be. There are two senior citizens' homes built in the tranquil surroundings of Suttur Srikshetra. There are two old age homes in Mysuru and Bengaluru also. These senior citizen homes have the necessary amenities to ensure the comfort of the inmates. One of the two senior citizen homes at Suttur and Mysuru is running for free.
Senior Citizens' Helpline
JSS Medical Service Trust has set up a helpline for senior citizens in association with the Police Department and with grants from the Department of Senior Citizens and Handicapped Persons' Welfare. The helpline has the objective of ensuring safety for senior citizens aged over 60 years and protecting them from any form of exploitation and maltreatment.