"The Math has a long history of more than one thousand years and being a multi-dimensional institution has contributed immensely to the cause of societal advancement"
JSS Science & Technology University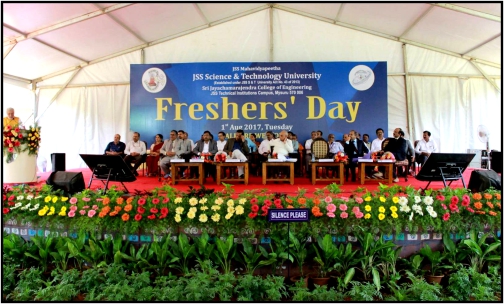 As an extension of SJCE, JSS Science & Technology University has been established. This university is a recent addition to the institutions administered by JSS Mahavidyapeetha. It has been established to create a futuristic global university to create a bright future and a learner-centric eco-system.
Vision
To be a leader in education, research, and technology in the international arena.
To create a universal platform for the students to launch their careers vesting the industry and research community with a skilled and professional workforce.
Shaping JSS STU as an epicentre of innovation, and centre of excellence for research with state-of-the-art facilities.
Fostering an erudite, professional forum for researchers and industrialists to coexist and to work cohesively for the growth and development of science and technology.
Mission
Our mission is to develop JSS STU as a global platform for cohesive learning of engineering, science and management which are strongly supported by interdisciplinary research and academia.
JSS STU is committed to providing world-class amenities, and infrastructural and technical support to the students, staff, researchers, and industrial partners to promote innovations and technologies through patents and to enrich entrepreneurial endeavours.
Education, research, and social outreach are the core doctrines of JSS STU that are responsible for the accomplishment of the in-depth knowledge base, professional skills and innovative technologies required to improve the socio-economic conditions of the country.
JSS STU's core mission is to create a knowledge-led economy through appropriate technologies and to resolve societal problems through educational empowerment and ethics for better living.