"The Math has a long history of more than one thousand years and being a multi-dimensional institution has contributed immensely to the cause of societal advancement"
Adi Jagadguru Sri Shivarathreeshwara Shivayogi Mahaswamiji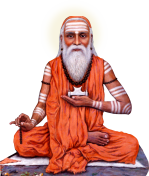 Adi Jagadguru Sri Shivarathreeshwara Shivayogi Mahaswamiji was a great saint of the 10th century A D. He came into fame while restoring peace between two warring kings, Rachamalla IV of Gangas of Talakadu and Rajaraja Chola I of the Chola dynasty. Adi Jagadguru Shivayogi Swamiji advised both kings to abandon war and choose peace. As a result, both the kings reached out to each other to extend a hand of friendship.
After this incident, King Rajaraja Chola requested Shivayogi Swamiji to set up a Math to celebrate this event. On his request, Adi Jagadguru Shivayogiji established Math on the banks of River Kapila at Suttur, near Nanjangud Taluk of the Mysuru district.
The foundation stone laid by the great saint Sri Shivarathreeshwara Shivayogi Mahaswamiji has continued till date in the form of two guiding principles – "Work is Worship" and "Selfless Service". Sri Math serves the people irrespective of any differences. It continues to serve society through establishing educational institutions, free hostels, medical and healthcare units, literary and cultural centres, etc.
Gadduge (Shrine)
The shrines of Adi Jagadguru Sri Shivarathreeshwara Shivayogi and some other pontiffs of the Sri Math are located at Suttur. It is believed that Sri Adi Jagadguru Sri Shivarathreeshwara Shivayogi attained Jeeva Samadhi (achieve the state of God while living) here and this is a sacred place for the Hindus. Poojas are held at the shrine during Amavasya (The New Moon Day) and on special occasions.