Suttur, February 1, 2019: The Adijagadguru Sri Shivarathreeshwara Shivayogi Mahaswamiji Jatra Mahotsav will be held in Suttur Srikshetra from February 1 to 6, 2019, in the divine presence of His Holiness Paramapujya Jagadguru Sri Shivarathri Deshikendra Mahaswamiji.
The JSS General Education Department has organized an Educational and Science Exhibition as part of the Jatra Mahotsav, which was inaugurated by Paramapujya Nirmalananda Mahaswamiji of the Adichunchanagiri Srikshetra and Sri Vishwanathaswamiji of the Adichuchanagiri Shakamath, Mysuru, Chunchanahalli Swamiji and Chikkatuppuru Sri, in the divine presence of Paramapujya Jagadguru Sri Shivarathri Deshikendra Mahaswamiji on February 1, 2019, at 10.00 am. Sri Vasu, former MLA, Sri Siddesh, Secretary, Taralabalu Vidya Samsthe, Sirigere, P. Sneha, Additional DySP, Mysuru Division were present on the occasion.
Sri Chidre Shanakaraiahswamy, Director, JSS General Education Division, Sri H.V. Sheshagirirao, Deputy Director, management team and others visited all the stalls and gave their appreciation.
There are 10 subject wise divisions in the exhibition
Sl. No.
Divisions
Total No. of models exhibited
1
Physics
23
2
Energy Resources
08
3
Mathematics
16
4
Biosciences
10
5
Linguistics
35
6
Health and Environment
15
7
Geography and Agriculture
13
8
Desi games
06
9
Art and Culture
09
10
Higher Primary School, Suttur
17
Total
152
A total number of 152 models have been exhibited, with participation of 75 teachers and 308 students. The exhibition also include live demonstration by Agastya Foundation, Karnataka State Science and Technology Motivational Society. Models which were exhibited by the Mobile Laboratory of the Science Development Committee in the schools under Mysore University is also included in this exhibition.
Pontiffs of various maths, political leaders, public and students have started visiting the Jatra Mahotsav in huge numbers.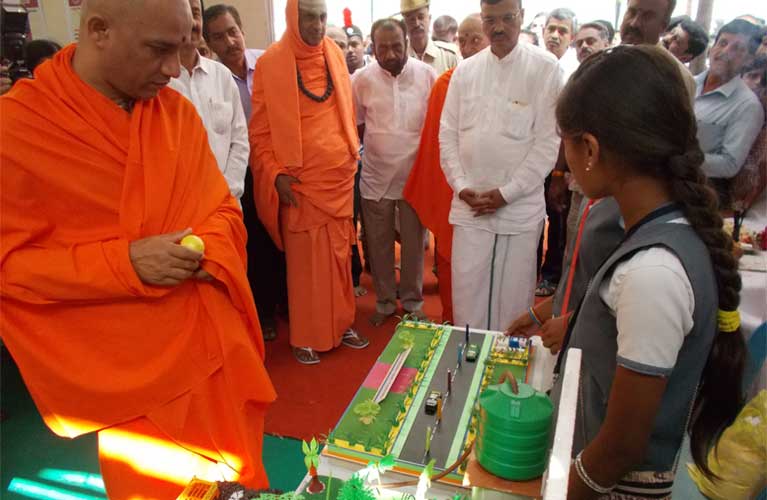 Sri Balagangadharanatha Swamiji observing a model at the science expo