"The Math has a long history of more than one thousand years and being a multi-dimensional institution has contributed immensely to the cause of societal advancement"
A Sacred Abode of Historic Temples
The Origin Sri Someshwara Temple
Sri Someshwara Temple is a historical temple built by Rajaraja of Cholas. It is located within the premises of Sri Suttur Math. This temple was first renovated by H.H. Mantra Maharshi Jagadguru Sri Shivarathreeshwara Mahaswamiji in 1935. The temple was renovated for the second time by Sri Math in 2005.
The statue of Shankara Narayana is the unique feature of this temple. In this statue, both Shiva and Narayana are fused together (Consisting half of Shiva and half of Narayana). Parivar deities, viz. Amruteshwari, Ganesha, Dakshina Murthy, Mahavishnu, Brahma, Chandikeshwara, Subramanya and Veerabhadra are also in the temple.
Nanjundeshwara Temple
Nanjundeshwara Temple is located in the Gadduge premises.
Sri Narayanaswamy Temple
Sri Narayanaswamy Temple is one of the oldest temples at Suttur. The 4 feet idol of Narayanswamy was installed in 1169 by Sri Lakshmaiah, a commander in the Hoysala army. Earlier, this temple was located in the middle of the village. It was shifted closer to the banks of the Kapila River and was rebuilt by the Math in 2005.
Sri Veerabhardreshwara Temple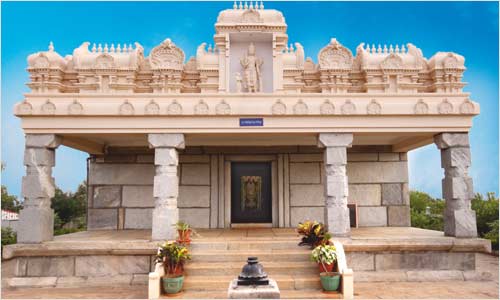 Sri Veerabhadreshwara Temple is located at a distance of about a km from Suttur on a small hillock. The idol of Sri Veerabhadreshwara, the chief deity of the temple, measures about 6 feet in height. People of the neighbouring villages are the devotees of this temple.
Sutturamma and Doddmmathayi Temple
Sutturamma and Doddammathayi are the village deities of Suttur. Temples for these deities were constructed during the 8th and 9th Century CE by the then Ganga ruler. The temples were renovated recently. Villagers believe that these deities will protect the village from any untoward incidents.
Small temples
There are also many small temples, namely Basvaeshwara, Ganesha and Bisilu Maramma, etc. located at Suttur.
Jain Basti
The Suttur village also had a Jain Basti, which indicates that people of the Jain community lived at Suttur.
Special poojas are performed in all the temples of Suttur during important occasions such as Karthika Masa, Shravana Masa, Dhanrmasa, Amavasya, Poornima and on festival days.  On such occasions, thousands of devotees visit the temples to partake in the special poojas.